SEMISHARE and Tektronix again hand in hand with the United States, recently launched a nationwide colleges microelectronics laboratory solutions, activating, synchronous global advanced test wafer prober technology, combined with teck test and measurement devices global leader in the field of deep technical accumulation and rich experience in project implementation, microelectronics for the national colleges and universities/research laboratories to provide stable and reliable advanced test and measurement of teaching innovation scheme, more countries develop more innovative research and development for the future and double gen talent, and jointly promote China's semiconductor field of advanced technology research and development strength.

1.Wafer probe platform university laboratory solution
SEMISHARE Wafer Probe Platform, a national college laboratory solution, is a 4- to 6-inch wafer testing application based on college education experiments:

01 Technical Background

Wafer (CV IV P - IV) test is widely used for measuring semiconductor parameters, especially the wafer level MOSFET structure etc. In addition, the use of CV IV P - IV measurement can also for other types of semiconductor device and process characteristic analysis, including bipolar junction transistor BJT jfets devices, organic photovoltaic cells MEMS devices are TFT monitor photodiode carbon nanotubes, and other basic features of a variety of semiconductor devices such as measure is mainly suitable for various applications, improve the performance of the process and device testing process parameters and mechanism of failure analysis, etc.
02 Market Demand
In recent years, China has attached great importance to the semiconductor industry and invested great resources to effectively ensure the high precision standard of laboratory test and measurement in colleges and universities. It is also the common vision of colleges and universities across the country to train and transport more innovative R&D talents.
03 Solutions
Through years of close cooperation with universities and colleges across the country, SEMISHARE has accumulated rich experience in project implementation and provided advanced wafer probe bench test solutions for university laboratories:
A 4- to 6-inch wafer testing solution based on college education experiments
> test object:
6inch wafer I - V, C - V curves, P- IV tests
> device configuration:
SEMISHARE SM-6 wafer probe station (16-100x optical magnification)+
SEMISHARE SS-40
Micropositioner
*4(10 micron precision)+
Keithley 2400 source meter
> measurement accuracy:
Electrode point measurement over 40 microns, leakage accuracy within 10pA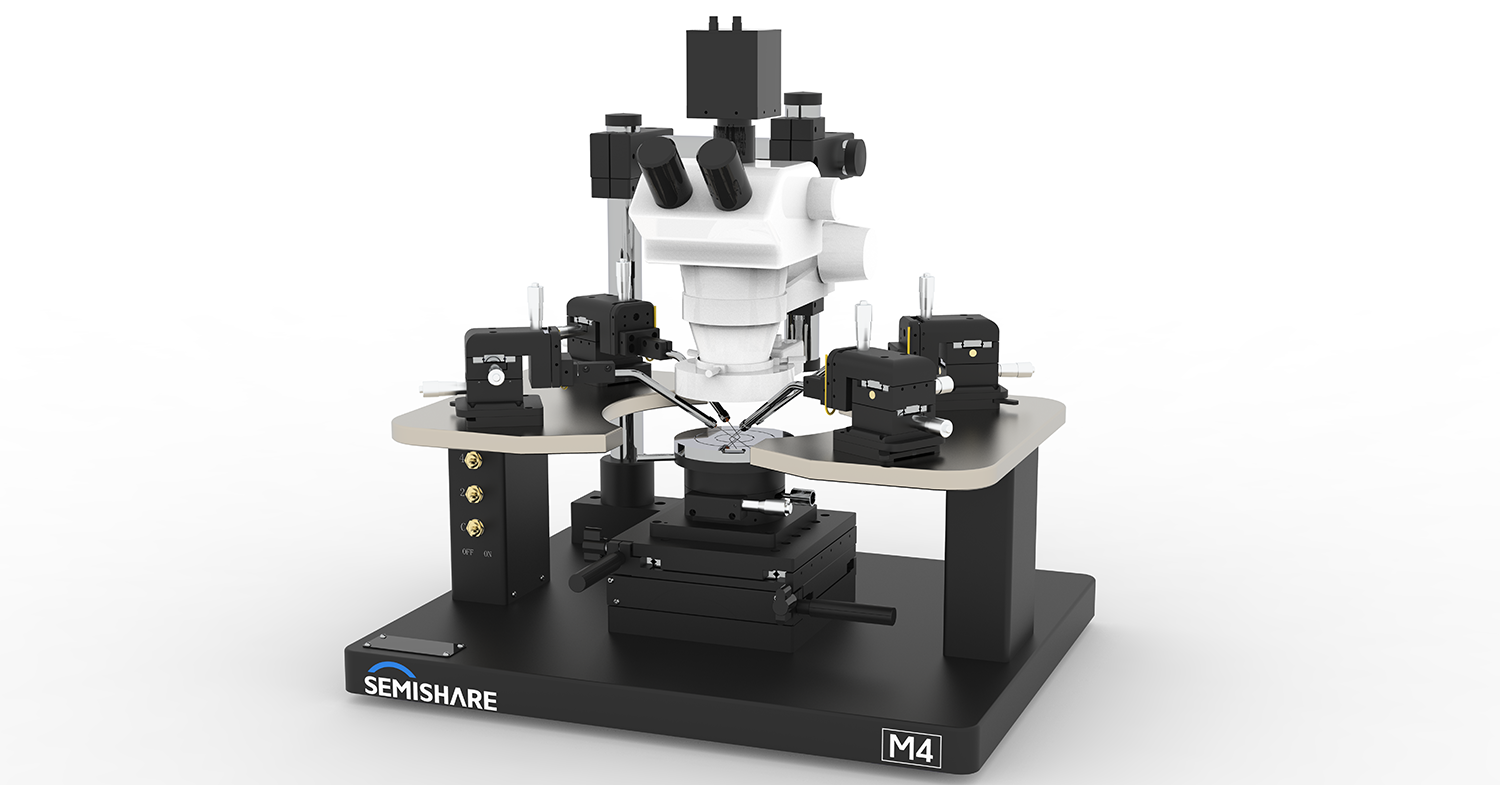 2. Advanced testing technology facilitates university scientific research and education
01 rationality
Based on the requirements of university laboratory environment, the equipment can save space under the premise of ensuring high-precision testing.
Under the premise of not reducing the quality of professional testing standards, provide more competitive price probe table equipment.
02 professional
More simple and convenient operation; Minimize the workload of operation training.
Stable structure, high test accuracy; Fast acquisition of measurement data.
03 flexibility
Modular customization, easy reconfiguration and upgrade for a variety of applications.
Strong adaptability, when the need to improve and increase, can be re - equipment upgrade and function expansion.
●
To help schools to build a professional teaching and testing training environment.
●
To help schools to improve students' theoretical and practical ability.
●
Based on the laboratory, the university can undertake testing services and form industry-university-research cooperation projects with enterprises.
●
Based on the laboratory, the school serves as a teaching service platform for scientific research or technical exchange.
3. Technology creates the future
As a leading manufacturer of wafer probe platforms in China, SEMISHARE is committed to providing customers with high-performance semiconductor detection equipment and technical solutions through continuous independent technology research and development and innovation. The probe sets independently developed by the company have covered manual type, high and low temperature vacuum type, semi-automatic mass production type and automatic mass production type, TEG/OLED laser repair type and other series, which are widely used in scientific research, education, experimental research and industrial manufacturing and other directions.
At present, our products and technical solutions have been applied to more than 1000 domestic customers.Among them, 80% of the top 100 domestic semiconductor R&D institutions are strategic cooperative customers of Senmier.Through the introduction of the independent research and development team built by the industry cutting-edge technical personnel, the company gathered from China, South Korea, Japan, Italy and other global industry deep technical experts, and established a professional research and development team composed of PhD senior engineers;The factory has a level 10,000 dust-free laboratory for the production and research and development of equipment, at the same time equipped with advanced process testing and quality control testing equipment.
In the future, Semir and Tektronix will continue to give play to their advantages in their respective fields, innovate advanced testing technologies, help the scientific research and education of universities, and jointly promote the ecological development of the semiconductor industry.