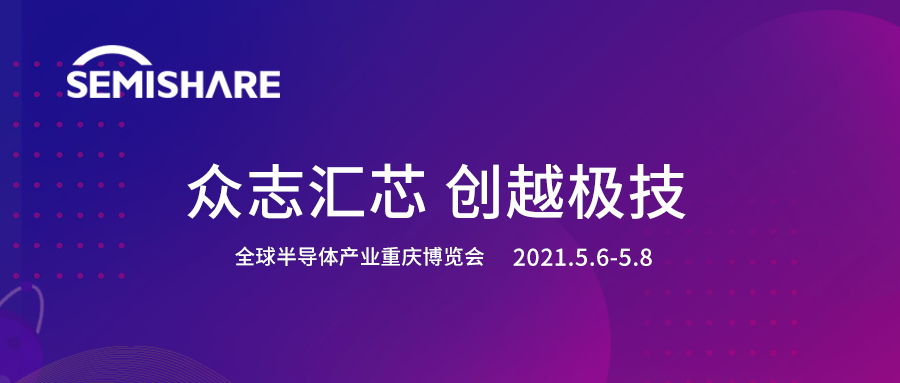 On May 6-8, the 3-day 2021 Global Semiconductor Industry (Chongqing) Expo ended at the Chongqing National Expo Center. The exhibition attracted 500 well-known companies from the global semiconductor field to attend. This exhibition is hosted by Chongqing Economic Information Supported by the Committee, the Chinese Institute of Electronics, and the China Automobile Manufacturers Association,With the theme of "Zhongzhi Huixin , Create the ultimate"", set up integrated circuit manufacturing, packaging and testing, semiconductor materials, production equipment, electronic components, AI+IOT+5G, power supply exhibition area, microwave millimeter and radio frequency technology and talent plans Nine special areas for training and exchange.
SEMISHARE technology promotes China's semiconductor test equipment localization development
In the entire R&D and production process of the chip, whether it is the reliability verification test in the chip design link, or the WAT and CP test in the wafer mass production, the probe station plays a vital role. Because the probe station equipment has a high technical barrier, the equipment market has been monopolized by foreign companies.
X12 upgraded semi-automatic probe station
A comprehensivehigh-efficiency semi-automatic probe station specialized in performance testing of various advanced chips;
Has the highest temperature range and test accuracy in the industry;
Test running speed>70mm/s, motion accuracy ≤1μm;
It can match a variety of test application environments and provide reliable wafer testing in a wide temperature range of -60°C to 300°C;
High-performance airtight dark room effectively shields EMI.
The exhibition highlights
The mayor of Chongqing and leaders of the Economic and Information Technology Commission visited
The mayor of Chongqing and the leaders of the Economic and Information Committee expressed their high recognition of the latest technological breakthroughs of SEMISHARE technology, and learned in detail about the engineer's introduction and operation demonstration process of X12 on the spot. Mayor Tang very much hopes that SEMISHARE can carry out in-depth cooperation with semiconductor manufacturers in the Chongqing region and jointly promote the overall development of the semiconductor industry in Chongqing.
Many professional customers visit and negotiate
The SEMISHARE booth attracted many professionals to visit, and the two sides conducted in-depth discussions on further cooperation.
The X12 debut attracted the attention of many professionals and was widely reported by mainstream media.
We are so glad to meet you at the 2021 Global Semiconductor Industry (Chongqing) Expo. We thank every customer and friend for their attention and recognition of SEMISHARE technology. We also sincerely thank every colleague at the exhibition site for their hard work. The exhibition has come to a successful conclusion. The excitement continues. In the future, we will not forget our original intention and strive to move forward. The localization of semiconductors is no longer an ideal idea, but a future that our generation can foresee!
As a global advanced wafer probe station manufacturer, we have the most abundant and advanced probe station production line and look forward to further cooperation with you!